Image Credit: @ukhomeoffice on Twitter
Indian origin Priti Patel, a Modi supporter, is UK's new home secretary
London, July 25 (IBNS): Indian origin Priti Patel has been named British home secretary in Prime Minister Boris Johnson's new government. She is known to back India's Narendra Modi government.
Patel, 47, had resigned as international development minister in November 2017 over secret meetings with Israeli officials. Pro-Brexit, she has since been an outspoken critic of former Prime Minister Theresa May's approach to Brexit.
I am deeply honoured to be appointed as Home Secretary by our new Prime Minister @borisjohnson. Looking forward to working @ukhomeoffice to prepare our Country for leaving the EU, leading on matters of national security & public safety & keeping our borders secure.

— Priti Patel MP (@patel4witham) July 24, 2019
English-born to Indian parents who came from Uganda, Patel is taking over from Pakistani-origin Sajid Javid, who is the new chancellor of the exchequer.
"I will do everything in my power to keep our country safe, our people secure, and also to fight the scourge of crime that we see on our streets," she said.
"I also want to thank my predecessor Sajid Javid for his commitment to the Home Office and law and order," she added.
Patel will be in charge of police, law and order, intelligence and tackling terrorism.
Boris Johnson intends to positively see the UK leave the EU by October 31.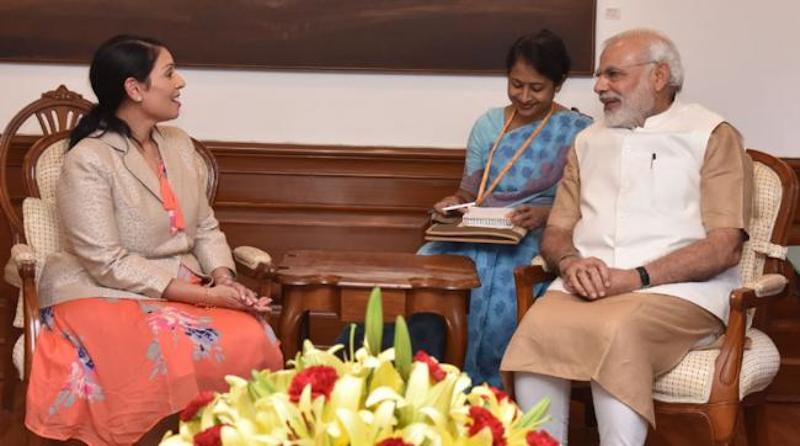 Priti Patel has met India's Prime Minister Narendra Modi and is known as his supporter.
Indian origin Priti Patel, a Modi supporter, is UK's new home secretary
India Blooms News Service
Post your comment: